East Sussex College alumna, Chloe Hook, who studied Art and Design at the College's Eastbourne campus has finished as a runner-up on Channel 4's Handmade: Britain's Best Woodworker TV series.
Chloe, 21, who was part of ESC's student cohort between 2016 and 2018, has thrived in her industry since leaving the College and progressed to the final of Channel 4 TV programme, Handmade: Britain's Best Woodworker Series 2, where she finished as a runner-up in the competition.
The show aims to find Britain's best woodworker and has given Chloe an opportunity to showcase her incredible, technical woodwork skills and compete among the country's finest woodworkers.
Following her time at ESC, Chloe went on to study a Degree and in 2021 she graduated with a BA (Hons) in 3D Design and Craft.
Speaking to the College about her success in the TV competition, Chloe said, "It was an amazing experience, a once in a lifetime opportunity that I couldn't turn down. Not only did I get to meet the most wonderful bunch of people, it also gave me the chance to push myself and see what I can do under time pressure, with great tools and machinery.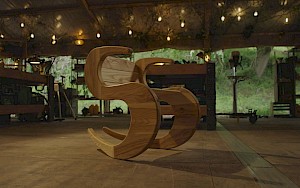 "It's always hard to pick my favourite build from the show, but I did love making the rocking chair and of course the bar which was the final build. Every build has its ups and downs but that's all part of the journey as a designer and maker; it's what makes us improve!"
On her time at the College and how it shaped who she is today, Chloe said, "Studying the Art and Design course allowed me to test many specialised areas and helped me find what I enjoyed doing. The tutors were also always very supportive and always found ways to get creative.
"From college, I went straight to university and had great advice from the tutors which helped me decide what university and degree would fit me best. Without this I'm not sure I'd be where I am today!"
Chloe added, "I'm currently studying a Masters in Craft at the University of Brighton, where I also did my undergraduate course in 3D Design and Craft. I enjoy every part of being at university and use my time there to learn and develop my skills in making and designing."
If you'd like to follow in Chloe's footsteps and want to study Art & Design at East Sussex College, please click here to view all of the relevant courses on offer.