Amita Suman, Performing Arts alumni from East Sussex College Lewes, stars in the hit Netflix show, Shadow & Bone.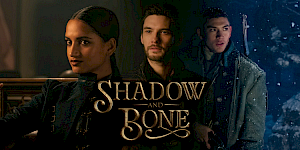 The eight-part American fantasy series, created by Eric Heisserer, premiered on Netflix on 23 April to rave reviews. It shot straight to number one here in the UK top ten on Netflix. Based on the bestselling books by Leigh Bardugo, the fantasy series has been dubbed 'Ocean's Eleven' meets 'Game of Thrones', and creator Heisserer has already been teasing plans for a second series.
In Shadow & Bone, Nepali born Amita, 23, plays Inej Ghafa, and joins a talented and ethnically diverse cast, including Jessie Mei Li and Ben Barnes. Amita studied Performing Arts at the Lewes campus of East Sussex College (formerly Sussex Downs College), from 2013-2015. After college, Amita studied at The Academy of Live & Recorded Arts and has been acting ever since.
"My teacher, Kerry [Smallhorne] didn't put me in a box and told me I could play whatever role I wanted without limiting me to a stereotypical Asian character," Amita recalls. It was the encouragement to achieve without limitations that spurred Amita on to carve out a successful acting career. "I loved my time at Sussex Downs College (now ESC)," she continues.. "It provided me with all the tools and advice I needed to get into drama school. The Performing Arts course at East Sussex College is excellent and I would recommend it to any student!"
The college is equally proud of its talented alumni. Amita's former teacher, Kerry Smallhorne, says, "When Amita started her journey with us she was a smart, talented, and thoughtful student who had a voracious drive and enthusiasm to be challenged in a wide range of diverse roles. She was always gracious, generous, and experimental and really broke the mould in her approach to acting and performance. Watching her journey from Doctor Who to Inej the complex assassin with a heart of gold has been captivating. We all wish her the best as she goes on to be a ground-breaking actress who is definitely one to watch in future roles."
Shadow & Bone series one is out now on Netflix: