East Sussex College Lewes Performing Arts alumni, Anubis Finch, has followed her passion for musical theatre appearing in the brand new series of hit BBC show, RuPaul's Drag Race UK.
When we catch up with the talented alumni, she is in Scotland, touring her very own show. The first episode of RuPaul's Drag Race UK has just aired on our screens. Unfortunately for Anubis, she is the first contestant to leave the show, but she is still bubbling with enthusiasm and excited about the whole experience.
Speaking about her involvement in the BBC show, Anubis says, "It's kind of surreal to be fair. I've been watching the show for seven years and I've always loved musical theatre, always loved drag, I've loved performing and music, so this show obviously incorporates all my passions. I auditioned for it quite a while ago and then luckily got on and now here we are today! It's great, but very surreal!"
Anubis emerged with great support from the celebrity judging panel which included Matt Lucas and Graham Norton.
Matt Lucas praised her "prettiness" on the runway, saying, "It's weird to say this as a comedian because I always say there's no vanity in comedy but actually, you're so pretty that I wish I saw more of your 'prettiness'."
Meanwhile RuPaul was full of support and positivity, saying, "You are a young beautiful queen with a bright future ahead".
Anubis is now performing across the UK and fulfilling dreams that have become reality since leaving the College. "I'm currently touring in Scotland, then Newcastle, Birmingham, Manchester, London and Brighton. It's very busy but it is worth it! It's great to be able to get out and I'm just happy to be able to do it with Covid and everything," she says.
"On tour it's my own show, but I'm allowed to do it basically because of the platform I've got from the show. I'm touring and doing different meet and greets, meeting all the fans online. It's a big musical, theatre show with loads of silliness and costumes. It's great, really fun!"
During her time at East Sussex College, Anubis starred as the lovable ogre in a production of Shrek. The successful show remains one of Anubis' favourite performances to date. She has fond memories of the production, saying, "It was really fun. It's still one of my favourite shows that I've been a part of. Sometimes when I'm in Brighton or London, I'll actually meet people through being on Drag Race and they go 'I actually saw you at ESC Lewes as Shrek' and I was like, bloody hell!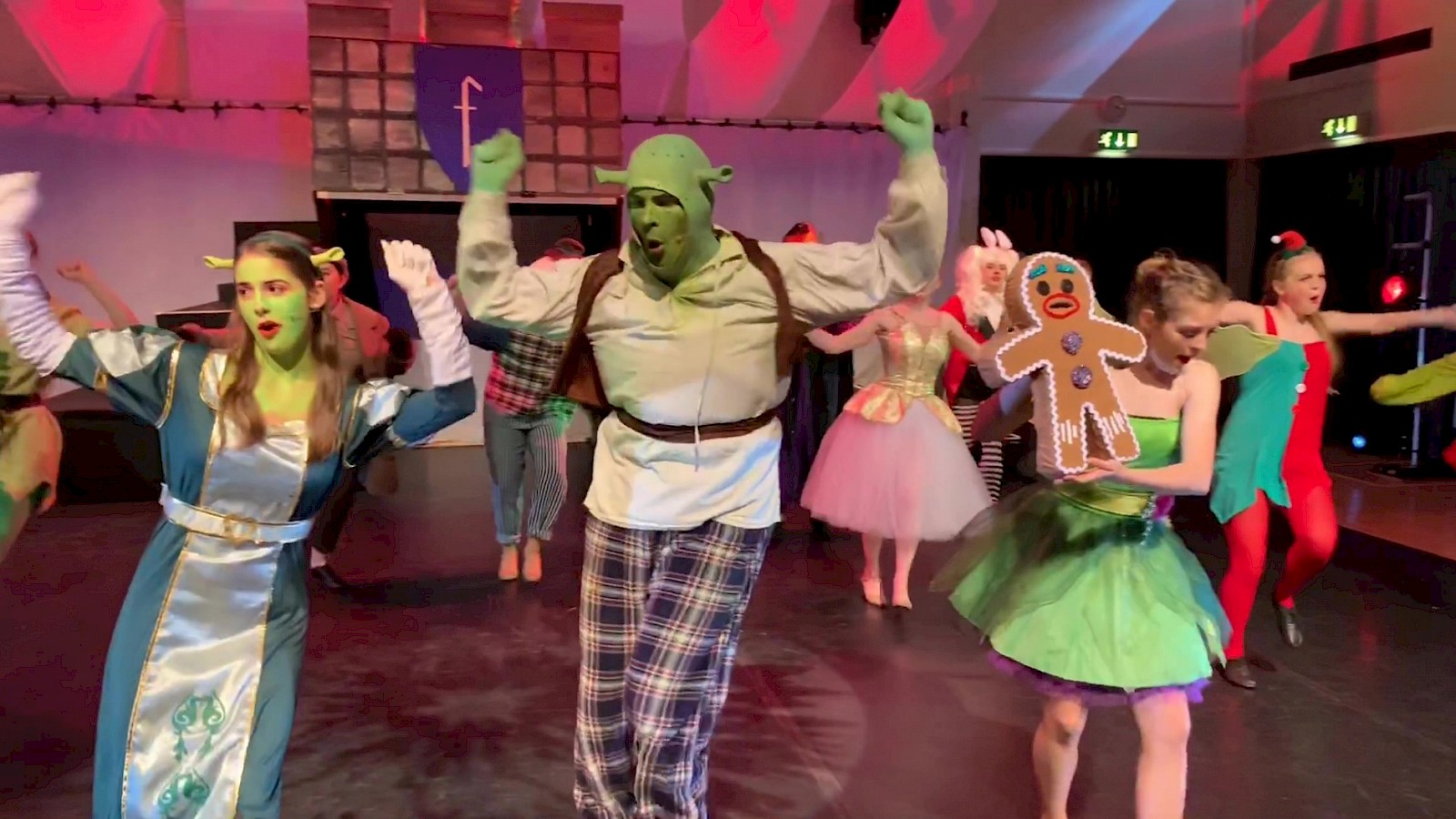 "It's a long time ago for me now, maybe two or three years ago, but it was a great experience. It was so much fun, I really loved my time there and the teachers were lovely. It was a really nice production to be a part of."
ESC prides itself on being supportive to students throughout their time studying here and Anubis' experience at the College outlines this.
"It was one of those things where I didn't have a great time at secondary school and I didn't really feel like I fit in well. I always felt like a bit of an outsider," Anubis tells us. "Then my time at Sussex (East Sussex College) was really lovely because I felt like it was one of the first places that I really fit in. I felt like I had creative freedom, I could express myself in the way I wanted and I woke up ready to go to College and I had fun! That's something I didn't really have with school and I dreaded going in. Then with College I'd be excited for the day and stuff like that. I found it really supportive."
Anubis recalls her experiences at ESC and looks back with fondness at the support she received - in particular from her tutors who have kept in contact to this day.
"All the teachers were really helpful, really lovely and friendly. Still to this day we're in contact. Even - pre-Drag Race, they'd still get in touch to see how I was doing. They've followed my career, so it's been really lovely," says Anubis.
"I always felt like with me, it put me at ease knowing that the teachers were obviously there and authoritative, getting the job done very professionally. But it was also very much like I had a friend in the teachers as well. It was like they were there for us just as much as my other peers were, which was quite nice. And I don't think you get that at many places. Jason specifically, but also Frankie and Louise, they've all really been supportive especially on the performing arts course."
Jason Bradley, Anubis' Performing Arts tutor from her time at the College, is equally proud of her progress and said, "As a student at East Sussex College, Anubis was as close to the model, passionate and enthusiastic student as you could hope to teach. Her raw talent for musical theatre and acting was clear to see throughout her entire college journey, and those skills helped produce some of the most engaging and groundbreaking performances of the last 10 years.
"Her support of others, her ability to inspire fellow peers and seek to challenge herself, the audience and indeed the teachers themselves, is a skill rarely seen. Her ability to be the person she wanted to be was clearly empowering for many students around her, not only in her immediate peer group but around the college in a wider community context."
Jason added, "As a teaching faculty we have been left with nothing but love and respect for one of the most amazing students, who will trail blaze through her career and life."
The opening episodes of BBC's RuPaul's Drag Race UK season three are now available on BBC iPlayer. Episodes will be released weekly on the streaming site.