Level 1 and Level 2 Art & Design students from East Sussex College were commissioned to paint a mural at Sacred Heart School in Hastings.
The project involved pupils from Sacred Heart School who were included in the selection process of the mural, and they also worked collaboratively with the College students to paint the final design on the school wall.
Sacred Heart School requested that the mural would be inspired by Marianne North. Marianne was a well-known botanical painter in the 1800s who travelled the world in search of rare flowers and plants. Her paintings of flowers in their natural habitats gave a glimpse of plants inaccessible to most people at the time.
In 1882, a gallery of her impressive work was opened at the Royal Botanic Gardens in Kew, Southwest London. The gallery remains open to public viewing and is home to 832 paintings produced by Marianne over a time-span of 13 years.
Deborah Wilson, Art and Design lecturer at East Sussex College Hastings, said, "What an opportunity! Our project for this term has been based on the work of Marianne North. We went to Kew Gardens to view not only the amazing flowers and fauna, but also to look at Marianne's work in her gallery. It was a fantastic day out for the students - a real cultural visit.
"We then created group murals in college, based on the students' own designs, and to also help them embrace working with others. The students made friends and learnt how to work as a team.
"Part of the project was to collaborate with the pupils from Sacred Heart School. They came to ESCG Hastings and were taken around the College and participated in the mural selection as well as doing a workshop where they created their own mural," said Deborah.
"We booked some dates to go up to the school to paint the mural. Students from the College were involved with the planning, colour mixing and professional conduct."
As evidenced by the images of the mural, the students managed to produce an impressive final design on the Sacred Heart School wall to round off a successful project for all involved. To find out more about what Art & Design courses East Sussex College has to offer, please click here.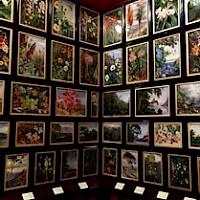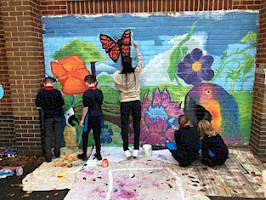 ​​​​​