The Member of Parliament for Hastings & Rye, Sally-Ann Hart, visited East Sussex College's Station Plaza campus in Hastings last month at the invitation of the College's ESOL students.
On Friday 27 May, Sally-Ann Hart MP visited ESOL students at East Sussex College's Station Plaza campus in Hastings. The MP was invited to the College by Entry 1 students who had been learning about how to contact their MP as part of the citizenship and life in the UK element of their ESOL course.
Sally-Ann was welcomed by the ESOL team and the student course reps, who gave her a tour of the ESOL area and answered questions about the types of students and the courses run in the ESOL & International department.
The Hastings MP met ESOL students from over 30 nations, including a group of Sudanese students who danced and sang their national song for her!
ESOL students shared their personal stories, and then listened to Sally-Ann who spoke about her own life and work as a Member of Parliament. She answered questions on a range of subjects from her own life, work and ambitions, to her views on current political matters, which she did not shy away from.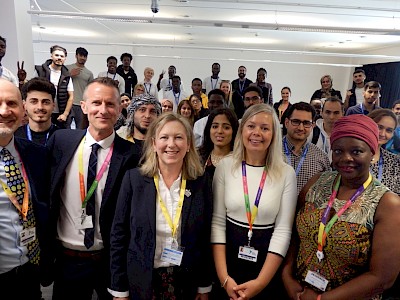 Finally, the students lined up for photographs and selfies with their MP – something that many students commented would not happen in their own countries of origin.
Speaking about Sally-Ann's visit, ESOL Manager at East Sussex College Hastings, Otto Haas, said, "Sally-Ann's visit was such a great opportunity for our ESOL students. We teach them about British Values, such as democracy, and they learn about our parliamentary system, but to actually meet a Member of Parliament, to hear about her life and work, and to ask her questions and to get to know her really brings the subject to life!
"Sally-Ann was so approachable, and the students learnt so much from her. For most, I'm sure this was the highlight of their academic year!"
Otto added, "Overall, the students were enthused about Sally-Ann's visit and she commented that she has rarely received such a warm and friendly welcome."
If you'd like to find out more about ESOL at East Sussex College, please click here for further information on our website.