East Sussex College Lewes and Sussex Vegan hosted the first ever 'Vegan Festival Lewes' on World Vegan Day (Thursday 1st November)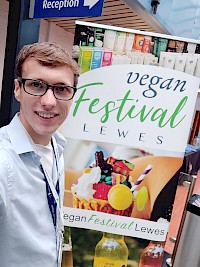 Robert Stevens, 19, an A-Level Business, Psychology and Media student at East Sussex College Lewes and business owner of Sussex Vegan, worked in collaboration with ESC to bring the exciting new event to life.
Over 30 businesses took part, seeking to inspire, inform and promote the benefits of an alternative lifestyle.
Robert says, "I'm so delighted with the success of Vegan Festival Lewes and the impact it had. A huge thank you to everyone who came along to support the event. The buzz and the atmosphere created was quite phenomenal, with many students choosing to engage and members of the public travelling to Lewes to see what we had to offer. I'm so excited to deliver these events across Sussex in collaboration with East Sussex College."
Rebecca Haynes, Speaker at Vegan Festival Lewes and organiser of Kind Heart Festival in Hailsham, adds, "It really was a brilliant day and I thoroughly enjoyed it. Thank you to Rob for his passion, dedication and drive in helping to create a kinder, more just world for everyone."
Victoria Wood of Greener Beauty, Vegan Online Retailer and Directory of Vegan Treatments nationally, said, "It was such a lovely day with such fabulous conversations and a great atmosphere."
The Vegan Festival was so successful that Rob has been asked to organise further festivals, to educate and inform on Veganism.
Vegan Festival Lewes featured a recognised speaker, informative exhibitors, samples of vegan food from vegan-friendly businesses, as well as vegan health and beauty products. Exhibitors included Equinox Kombucha, Materialise Interiors, artwork by Michael Green inspired by the vegan movement, Virtual Reality simulations, plus live music, yoga instruction, animal rights information and vegan clothing.
Video: The Latest TV, Published on Oct 31, 2018