It's Mental Health Awareness Week, and East Sussex College is on a mission to support the wellbeing of students and staff.
We have signed the Department for Education's Staff Wellbeing Charter, committing to championing Mental Health in the workplace (and at home). But we're going one step further by offering 24/7 mental health services to staff and students through Togetherall.
Togetherall is an online community where anonymous support is available, and experiences can be shared to help support others. Our partners at Togetherall have created some tips and suggestions for you to consider. Here we round up five ways to get in touch with nature for a much-needed wellbeing boost.
Start small
Try spending just five minutes a day for the next week paying attention to nature in your everyday life. Just taking a brief moment to notice and celebrate nature can help you to be more present in your daily life - and you might be surprised by what you notice!
Do things you find relaxing
You might like to go for a walk, read or paint in natural surroundings. Remember, being outdoors doesn't always have to be exercising. Sometimes just being is enough.
Ask for support
If you feel anxious in new places or social situations, you could ask someone you trust to go with you at first or you could even connect with others & share how you're feeling on Togetherall.
Bring nature indoors
If finding vast outside space isn't geographically possible, or maybe it feels overwhelming at the moment, explore ways of bringing nature indoors. A small and simple way to bring nature inside can be buying flowers or even taking photos of your favourite places in nature. Use these pictures as backgrounds on a mobile phone or computer screen as a reminder of those relaxing moments you have captured.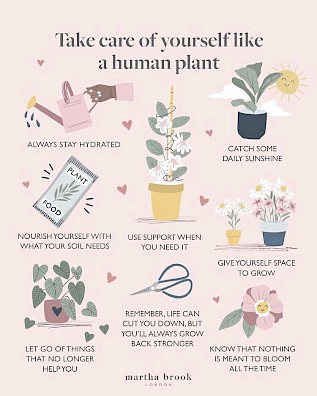 Be a human plant
Last but not least, we love this unique take on it: care for yourself as if you are a human plant. Water, nourishment, light… Simple advice that can go a long way to increased wellbeing.