East Sussex College's Eastbourne campus joined a partnership with Skiltek Sport in June as the College's Football Academy provider. The Football Academy extended their partnership with the College alongside the continuation of the programme at ESC Hastings.
In June, it was confirmed that Skiltek Sport is now the official coaching partner of East Sussex College Eastbourne, and works in partnership to provide a fun and engaging environment for young people in the local community.
Skiltek also develops the College programme for ESC's Hastings campus and Hastings United which has proved hugely successful over recent years, and crucially, it was also confirmed last month that this partnership will be continuing!
The College is extremely proud of the progress that the Football Academy partnership has made since launching around six years ago at the Hastings campus.
During that time, players/students have been on trial with professional football clubs including Leicester City, Newcastle United, Aston Villa, Burnley, Brentford, and Derby County.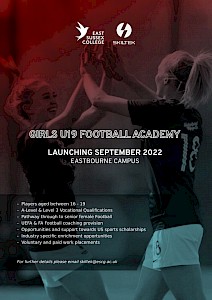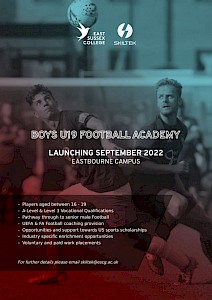 Similar success is expected in the coming years following the new football academy partnership with ESC's Eastbourne campus.
Speaking on the College's new partnership with Skiltek at their Eastbourne campus, Scott Raybould, Head of Curriculum for A-Levels, Sport & Public Services at ESC, said, "This is an exciting development for the Eastbourne campus and Skiltek to forge a successful partnership for years to come.
"It is a great opportunity to be able to provide our students the chance to become part of a men's and women's Football Academy, where they will not only train and play competitive fixtures, but will also benefit from additional sessions in strength and conditioning, game analysis and nutritional advice from our expert staff and Skiltek coaches."
Scott added, "The Eastbourne campus has outstanding sports facilities which include a full-size 3G pitch, brand new classrooms which include Technogym equipment and has full use of the other facilities on offer at Eastbourne Sports Park. This now includes our state-of-the-art gym facilities containing Technogym equipment, all in partnership with Wave Leisure."
Ben White, Head of Operations at Skiltek, said, "We are delighted to be extending our partnership with the East Sussex College Group. After a successful six years at the Hastings campus we are excited at the opportunity to be able to grow our sports academy and enrichment programmes and look forward to working alongside staff and students at the Eastbourne campus.
"We continue to be passionate about empowering and engaging with students through sport, as well as creating opportunities, experiences and career pathways."
Ben added, "September 2022 will see the launch of our brand new Football Academy for both male and female students at the Eastbourne Campus, the programme will be available to players of all abilities and experiences offering training and coaching sessions throughout the week as well as competitive fixtures."
In addition to the new partnership, the Sport department at East Sussex College Eastbourne is introducing a number of new courses to make use of the fantastic, state-of-the-art gym facilities at Eastbourne Sports Park.
To find out more information about Sport-related courses on offer at East Sussex College Eastbourne, please click here.
---

Become part of our elite & inclusive sporting environment!
Do you enjoy participating in sport? Either as an individual or as part of a team? At East Sussex College we are looking to build on our previous successes and grow our sports academy offering to our new and existing students in 2022/23.
As part of our commitment to build an elite and inclusive environment our sports academies are open to all Male, Female, LGBTQ, BAME and Disabled students.
If this is something you would be interested in participating in please scan the QR code below or click here.