East Sussex College has purchased high-tech vehicle safety equipment for its Hastings ATC campus to give staff and students the latest technologies to work with.
As part of the College's continuous efforts to stay at the forefront of industry technology delivering cutting edge courses, Hastings ATC has recently purchased some high-tech Advanced Driver Assistance Systems (ADAS) calibration equipment.
ADAS is the latest technology in vehicle safety. It works by alerting the driver to danger or even taking action to avoid an accident. With the help of image recognition software, ultrasound sensors, lidar and radar, modern cars can process information far faster than the human brain, they can even see in the dark.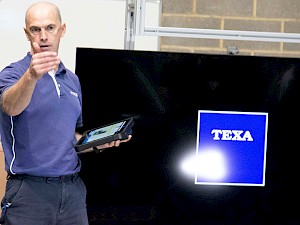 The RCCS 3 with Monitor is TEXA's solution for setting radars, LIDARs, cameras and sensors through the digital representation of the panels. It is equipped with a 75-inch HD screen, 4K definition, which always offers an optimal display, meeting the 1:1 proportion ratio in line with the specifications of every manufacturer.
Bruce Addison, from Vehicle Technology Systems (VTS) and John Roberts, from Texa delivered a full demonstration of the equipment to staff and students as part of curriculum enrichment.
The insightful demonstration carried out a calibration of the forward-facing radar system on the ATC's newest car, a 2020 Seat Ateca.
At a cost of the car and nearly £50k for the Texa ADAS equipment, this investment will now give Hastings ATC campus the ability to deliver the next generation of training to future vehicle mechanics.
To find out more about all the courses on offer at ESC's Hastings, please use the course search tool here.