Performing Arts students at East Sussex College Lewes were invited to Aladdin pantomime rehearsals at Eastbourne's Devonshire Park theatre last term.
Performing Arts students from ESC Lewes attended rehearsals of Aladdin at Devonshire Park theatre in late-November - an opportunity to witness the behind the scenes of talented performers in the industry and gain vital experience ahead of a possible career in the sector.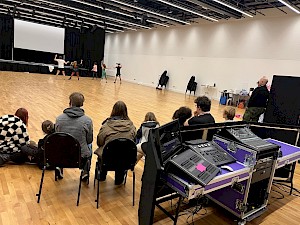 The students had the chance to watch rehearsals live in-person and gain a valuable insight into the industry talking to film director Chris Jordan and the cast of Aladdin. Katherine Glover, who played Aladdin, gave some particular insight to the students on what it's like to play the character.
Performing Arts Lecturer at East Sussex College Lewes, Andrew Stanley, said, "Students watched acting and choreography rehearsals and got a backstage tour of the theatre as the set for Aladdin was being fitted up. The Eastbourne Theatres staff were hugely welcoming and made the experience thoroughly informative and enjoyable."
All of this was hugely useful to the students as they had just embarked on their own pantomime tour of local schools in Lewes, Newhaven, Seaford, Plumpton, Laughton and Hamsey. Presenting their own version of Snow White and drawing inspiration from their experience at Aladdin, they performed to over 2000 school children and teachers, during a three-week tour. It was a successful return for the pantomime project, which the Performing Arts Dept in Lewes have been producing for over 20 years now.
Andrew added, "It was a fantastic experience for the students, who worked professionally throughout, and continues the successful links with local schools. We look forward to being back out next year with another production."
Speaking on their experience at the Aladdin theatre rehearsals, students said, "I thought it was really interesting to see how a professional show is rehearsed and the effort that's put into a theatre production. I liked that we could see professionals working in rehearsals.
"It was interesting to see how much time the cast were given before they had to perform in front of an audience. When we visited their rehearsal, we found out that they only had two weeks until they had to perform. I loved how it gave us the experience on what we would be doing later in life."
If you're interested in studying Performing Arts at East Sussex College, please click here to see all courses on offer.