East Sussex College BA (Hons) Photography alumna, Violette Sivyer, has had her photography featured in world renowned magazine, Vogue.
Following the completion of her Photography degree in 2022, the talented 33-year-old from Hastings has taken the industry by storm having had her photography featured in Vogue magazine - "a dream come true" for the former University Centre Hastings student.
Speaking to the College about the moment she found out about her feature in Vogue, Violette said, "It felt out of this world and a massive pinch me moment to have my work displayed in Vogue. I felt so proud of myself and that I had truly made it in my career. If someone had told me I'd be featured in Vogue four years ago I would never have believed them! I surprised all my family and friends so it felt really special as Vogue was one of my ultimate goals to be featured in. A year to the date I put Vogue on my vision board and exactly a year on it happened with persistence, hard work, and making sure my work was at a more editorial level and a new style that I love."
"I am featured in three Vogue issues. The images that are in Vogue include one of my famous images that went viral a few years ago and two images from the Galia Lahav SS22 Collection Urban Love campaign which I shot for them two years ago. I decided to choose a mixture between bridal, style and fashion which is my specialty."
Violette has also launched her wedding photography website this month. Make sure you check it out here!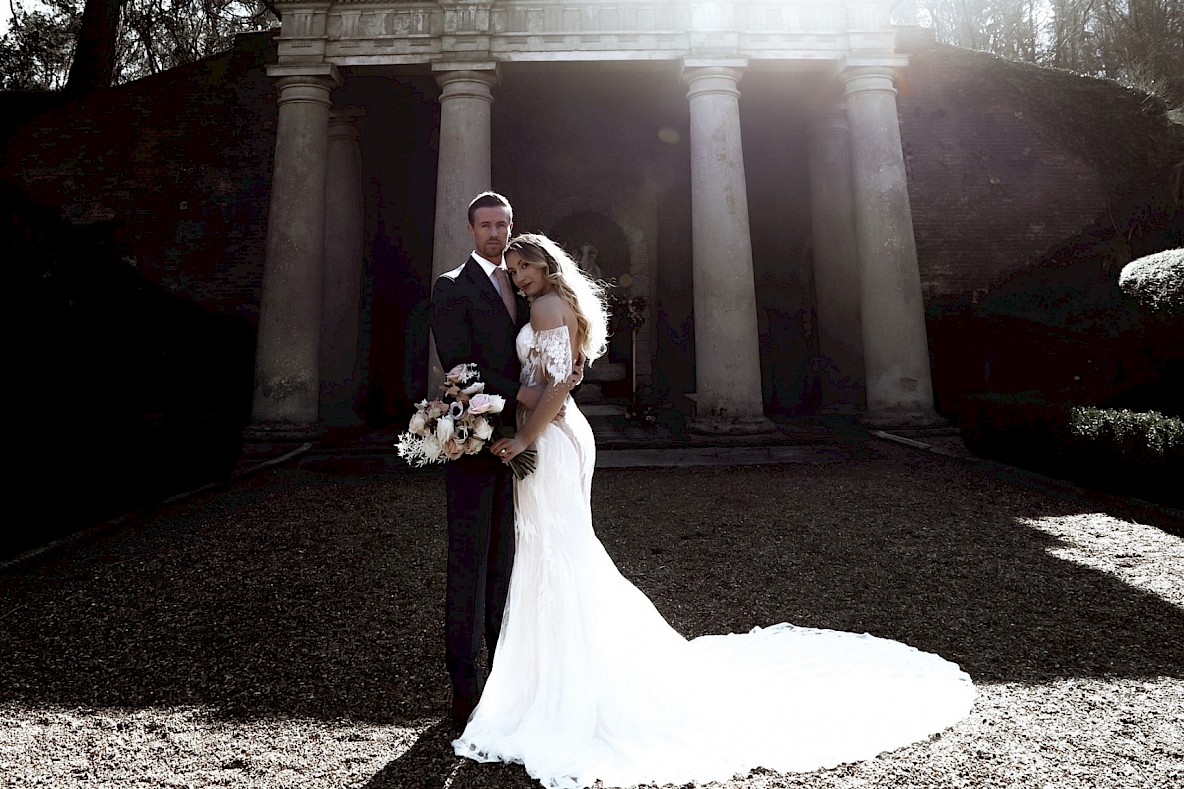 "Both my websites I have built myself so I am really excited to have my wedding website launched finally!," said Violette. "This year I will have a bigger wedding website, however I wanted to get something running so clients can see more about me, my style, my approach and values. A lot more of my portfolio, reviews and prices are all online too so it gives people a chance to see they are investing in me as a person too and what I'm about. I think it's important that people know more about me and my brand as it's not just about being a photographer but more about what I believe in as a photographer and how I shoot."
Speaking on her experience studying BA (Hons) Photography, Violette said, "Studying my Photography degree was a mixture of being very hard and so much fun! I would do it all over again if I could. I was 30 when I went back into education, so I had 12 years out of it. It was difficult going back as everyone was a lot younger than me, but I'm easy to talk to so I didn't find it too hard. The first couple of years were very hard due to covid and lockdown, this did affect a lot of factors including my learning and mental health too. However, my third and final year, which was by far the hardest, I got a whole year of studio use and much more. Uni was one of the greatest times of my life but also one of the most stressful, but I can honestly say it changed my life in more ways than I could have imagined and I don't regret any part of it. If anything, I wish I'd gone back to education sooner!
"I cannot tell you how amazing my tutors were to me and I'll always be forever grateful to them for everything that they have taught me. They were more than teachers, I'd say friends. They were my confidants, therapists and advised me in the area of photography that I was interested in, which is fashion photography. I wanted to get a first class BA (Hons) and all my teachers pushed me in more ways than I could have imagined - I can't even explain how much of a credit they were to me at uni and to get the grade and goal I wanted to achieve."
Violette added, "My advice would be if your going to do a degree you have to really want it, be passionate about it, put in the hard work and dedicate 3 to 4 years of your life to a subject you want to be able to look back on and know you made full use of every teachers knowledge, the facilities i.e studio, being present and learning about yourself. It is very expensive but the best investment I have ever made and the best investment you will ever make! Investing in yourself is the greatest thing you can possibly do for yourself, put yourself first and watch the world make moves for you! I would like to do another degree or even a masters, so it isn't that bad if I can do it the first time round!"
If you're keen to follow in Violette's footsteps into the industry, find out more about the BA (Hons) Photography course at East Sussex College here.