East Sussex College Lewes Level 3 Uniformed Public Services (UPS) Year 1 student, Coby Scott, won East Sussex Fire and Rescue Service (ESFRS) Cadet of the Year and was invited to attend a Downing Street Platinum Jubilee afternoon tea at the start of June!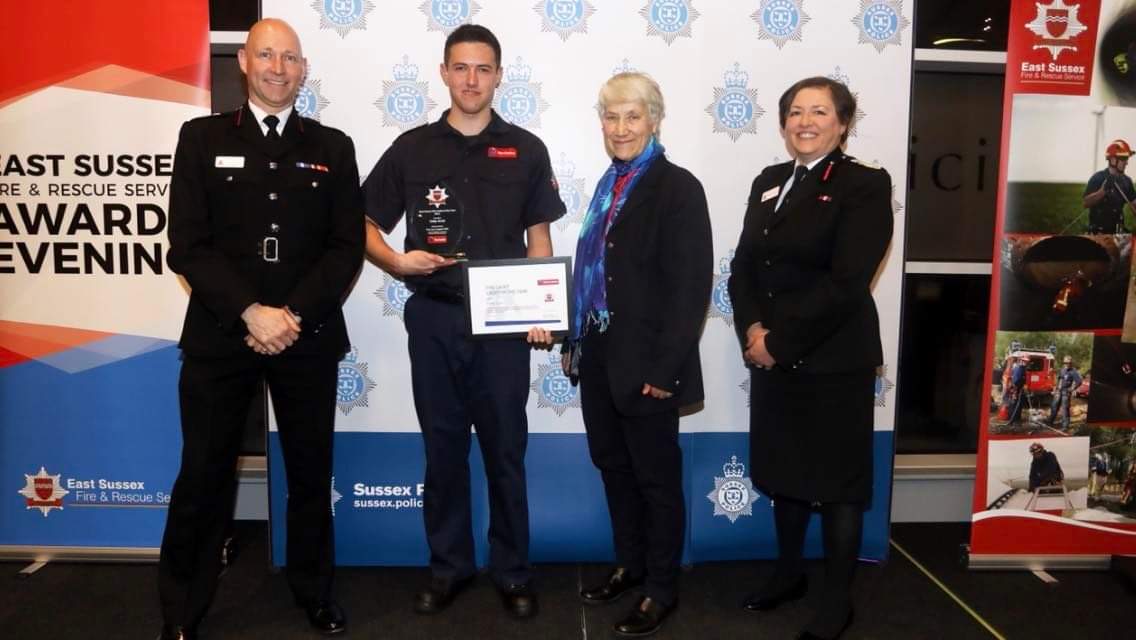 ESC Lewes UPS student, Coby, was crowned the Cadet of the Year for ESFRS in April as recognition of his impressive work and performance throughout the last year. He was presented with his award at a police and fire celebration for cadets across the county at the AMEX Stadium.
The awards were presented by the Lord Lieutenant of East Sussex, the High Sheriffs of East Sussex and the Chief Fire Officer. Coby was initially nominated by the cadet leaders at Uckfield's Fire Cadets unit who recognised that he is an exemplary cadet, who is committed, dedicated and a valued team member of the team.
Following the success of being named ESFRS Cadet of the Year, Coby was invited to attend a Downing Street Platinum Jubilee afternoon tea, which was hosted by Culture Secretary Nadine Dorries and Sports Minister Nigel Huddleston on Monday 6 June.
The attendees of the Jubilee themed event included young people from cadets, scouts, beavers, cubs, girl guides and brownie groups. Also in attendance were recipients of the Points of Light Award, Commonwealth athletes and representatives of Age UK.
Speaking on becoming ESFRS Cadet of the Year and his invitation to Downing Street, Coby said, "It was an honour to be selected as Cadet of the Year and to represent East Sussex Fire Cadets at Downing Street. It was interesting talking to some of the other cadets from the RAF, Police, Army and the Navy as we all shared a passion for our chosen service.
"I got to have a walk through No. 10 Downing Street, which had paintings of all the previous Prime Ministers. I got to meet another Fire Cadet from Merseyside and chat to her about the Fire Service. It was an experience of a lifetime and I am very enthusiastic about my future in the Fire Service."
Sophie Hepworth, Partnership Manager at ESFRS added, "I am very proud of the progress made by Coby who is our 'Cadet of the year'. I had the pleasure of accompanying him to this prestigious event. This occasion demonstrated Coby's increase in confidence since becoming a Fire Cadet. He was able to chat comfortably with the adult guests, and other young people . Coby will be leaving Fire Cadets at the end of the Summer but is going through the process to become a Fire Service volunteer."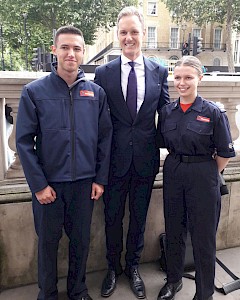 Hayley Funnell, Head of Curriculum for Sport and Public Uniformed Services at ESC Lewes, said, "Myself and the Uniformed Public Services staff here at Lewes are so incredibly proud of Coby for achieving East Sussex Fire and Rescue Service's award for Cadet of the Year. Coby progressed onto Level 3 Public Services this year and I had the pleasure of tutoring him last academic year on Level 2 Sport & Physical Activity.
"His passion, perseverance, worth ethic and commitment to his studies and his cadet work is exemplary! Being part of any Public Service cadet programme is a valuable tool in not only putting theory into practice on the Uniformed Public Services course but also for future career development. Our long standing and popular UPS course here at Lewes provides a lot of enrichment experiences for students including trips, visits and guest speakers from RAF, Army, Gatwick Border Force, Sussex Police, City of London Police and many more."
Hayley added, "It's certainly action packed and allows learners to experience many different public services opportunities as further careers. Congratulations Coby, we cannot wait to see where your journey takes you next!"
If you're interested in studying Level 3 Uniformed Public Services at East Sussex College Lewes and would like to find out further information about the course, then please visit our website by clicking here.