Students and staff came together at East Sussex College Eastbourne, Lewes and Hastings campuses last week, to remember the fallen servicemen and women.
Armistice Day events took place at each ESC campus. The two-minutes silence was respectfully observed across all our campuses, as the College paused to remember fallen war heroes and ensure they are not forgotten.
In Eastbourne, this was followed by a presentation from ex-military staff. In Lewes, Uniformed Public Services students service was streamed to students and staff from the courtyard.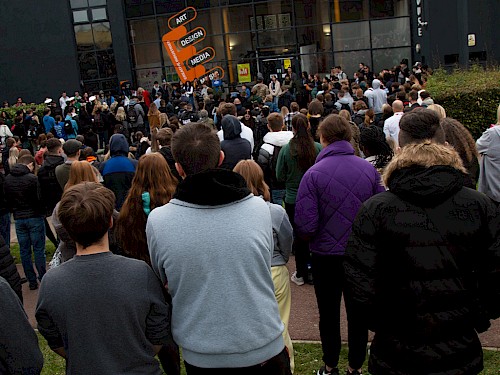 Whilst Lewes and Eastbourne services took place on Thursday 11th November, the Hastings service was observed on Friday 12th November. Local veterans, pupils from Hastings Academy and staff and students came together to mark their respects.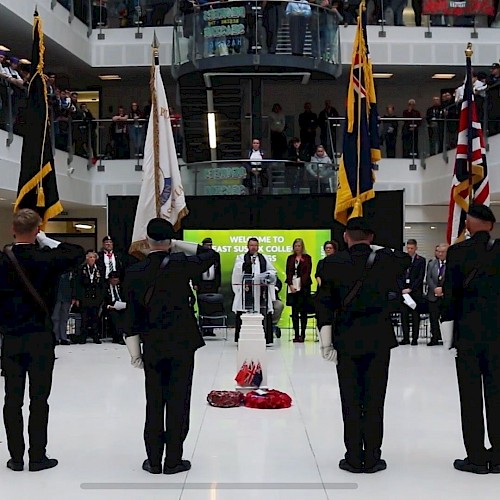 Rebecca Conroy, CEO at East Sussex College, attended the Hastings service and said, "Our Remembrance Day Services are a special date in the College's calendar and we were proud to mark this occasion of remembrance with another important service.
"It was particularly important for us to welcome our ex-military guests, alongside staff and students, to join us in saying thank you to the fallen war heroes and ensure they aren't forgotten."
Each year, Public Services students plan and organise the Remembrance Service and Parade to remember and honour those who lost their lives in wars and conflicts over the last century. Watch the East Sussex College Lewes Remembrance Day service here, via the ESCG YouTube channel.
A poppy wreath was also put on display for Remembrance Day at the Eastbourne campus reception. The stunning wreath is the handiwork of Community Provision students, and was made using plastic bottles and upcycled materials. The 'Upcycle Market' class runs in Eastbourne and Lewes. To find out more about the class, please click here.