East Sussex College Hastings UAL Level 3 Games Art & Animation student, Erin Rodrich, has progressed to the finals of the BAFTA Young Game Designer (YGD) 2022 competition for her entry into the Game Concept award, 15-18-year-old category!
Erin, alongside her fellow Year 1 UAL Level 3 Games Art & Animation students at ESC, participated in the BAFTA Young Games Designer 2022 competition as part of the students' WEX/Unit 3 studies this year.
The Young Game Designers competition is an initiative created by BAFTA to support young people to create, develop and present their new game concept.
The aim of the competition is to conceive a concept for an original computer game - suitable for a PEGI 12 (or younger) age rating. Applicants for the Game Concept award were required to define the overall theme, goals and mechanics of their game in detail, as well as illustrate visuals from within the intended game - e.g. character designs and environment concept art.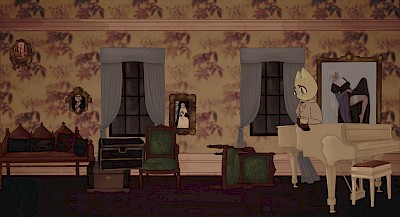 Following the exceptional news that Erin has progressed to the final stage of the competition with her entry titled 'Vellichor, Lost & Found', she is now set to receive a bundle of games goodies from the various YGD partners.
Prizes for reaching this stage include a series of exclusive masterclasses, digital mentorship and careers advice from industry experts, and the opportunity to attend a special showcase event at BAFTA's HQ in London - as a finalist!
The illustrations made by Erin for the competition and the opportunity to attend the showcase event at BAFTA's HQ, provide her with an invaluable experience that will certainly stand out on her CV!
Speaking on her impressive progress to the BAFTA YGD finals and her initial reaction to the great news, Erin said, "For the competition we had to come up with a unique game idea, create concept art, and work on and explain how our game would work and what it was about. When I found out I'd reached the finals I was very shocked, but also excited for the upcoming finals.
"Tutors were very supportive by assisting me when I wasn't too sure on things and how to do them. They'd also offer me encouragement, even when things were going well. I'd definitely recommend studying the Games Art & Animations course at East Sussex College. It's very enjoyable and I really like doing the work!"
Erin's UAL Level 3 Games Art & Animations tutor, Richard Cobbold, was thrilled with her achievements and said, "The competition allows our Year 1 students to put into practice their concept art skills learned earlier in the year, and to explore new skills around ideas development and working within set design parameters.
"Erin devised a mystery maze-style game entitled, 'Vellichor, Lost & Found' set in an abandoned library in which the player must venture into various famous works of literature, and interact with characters and scenes within these books to complete certain quests. She produced an array of fantastic concept art to bring her game-world to life, in a graphic style that would really appeal to the target audience."
He added, "We wish her lots of luck, and hope that she will be announced as the overall winner of the award. We are exceptionally proud of Erin's achievement and are excited for her - knowing that this is a great accolade to add to her CV and future University application."
The overall winner of the award is set to be announced on Thursday 30th June.
If you're interested in studying Games Art & Animation at East Sussex College Hastings, then please click here to find out more information about the course.