East Sussex College focused on the Health, Fitness and Mental Health of students across its campuses as part of the College's involvement in Mental Health Awareness Week 2022 last week (9-13 May)
The College's Student Enrichment and Wellbeing teams organised a wide-range of activities each day. It was a fitting time, ahead of a busy exam season for the majority of students.
Students had the opportunity to participate in fun activities including; free fitness sessions, wellbeing drop-ins, calming and meditation sessions, yoga, beat boxing, hair and beauty treatments, sports and more!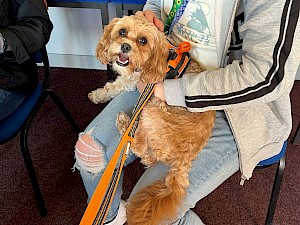 The College also welcomed Canine Concern therapy dogs, which proved to be hugely popular among students (and staff!) across all campuses, who had the chance to relax in the presence of some furry friends!
Kate Edwards, Learner Journey Manager at East Sussex College, said, "The Mental Health Awareness Week event and activities were well received by students at an increasingly busy time in the academic year.
"The wide-range of activities enabled students to focus on the immediate present, taking a welcome break from their course(s), and being able to approach their studies with a renewed sense of purpose."
Click here to find out more details about the support resources and activities on offer across all campuses at ESC, and what else the College got involved with for Mental Health Awareness Week.