Alter Ego, one of the UK's leading social change theatre and film production companies, attended East Sussex College in October, to outline the dangers of County Lines to students.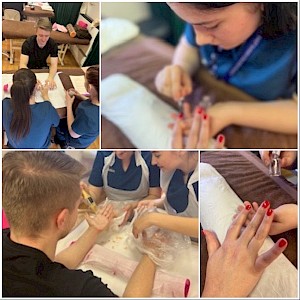 Actors, Jordan and Kieron, from the educational theatre company Alter Ego, performed the true life story of Randal, a young person manipulated into the drugs industry, after being groomed by a man with the promise of easy money and a better life.
The theatre performance of the project 'CountyLines' warned students of the dangers of getting involved in County Lines and also explained how they could safeguard themselves.
It proved to be an excellent way to ensure students gain an understanding of the dangers of getting involved in drug dealing, how grooming can take place, and where they can get help if they are targeted. It also shows the College's commitment to safeguarding students and raising awareness of current issues that could affect the lives of students and those in the community.
The CountyLines performances were part of the College's wider initiative on safety where external guests, such as KnowKnives, attended to educate students on the dangers of carrying knives, along with youth workers from Sussex Council who provided safer sex advice.
Speaking on the importance of raising awareness of these key issues, Rosemarie Winfield, Student Experience manager at East Sussex College, said, "The safety and wellbeing of students and the community is of paramount importance. This is why the College continues to host a variety of events and activities to improve the lives of students and to educate them in different ways about issues that affect them and the community.
"We also make strong links with a range of partnerships throughout the community and will continue to do so."
In addition to their performance, actors Jordan and Kieron also assisted first year Hair and Beauty students by being manicure models so students could practise their skills. Hair and Beauty lecturer at ESC, Melanie Coupland, said "It was good to make the most of an opportunity for the learners to build their skills and client communication!"

To find out more about the CountyLines project, please click here to visit their website.