Behind every great dish served at a restaurant lies the expertise of a skilled chef. What goes into becoming a master of cuisine?
For many aspiring chefs, it begins with an apprenticeship, a hands-on training program that teaches the fundamentals. Sixteen year old Archie Powell is willing and ready to take on that role, and has started his Chef career as an apprentice at The Crown Hastings on All Saints Street in the Old Town. From a young age, Archie would help cook dinners with his Dad and bake homemade cakes. At Robertsbridge Secondary School Archie studied Food Technology, and he then found a true passion for cooking.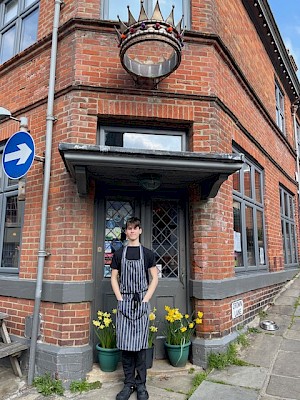 In 2022 Archie started working at The Crown as a Kitchen Porter, washing up whilst keeping a watchful eye on the chefs creating dishes. He jumped at the chance to step up when the opportunity came for him to start a Level 2 Commis Chef apprenticeship at The Crown; in conjunction with East Sussex College Hastings.
Archie says "I love working the pass on a busy day, the adrenaline and fast pace run of the kitchen is what I love most, progressing through the stages of becoming a qualified chef is a job I thoroughly enjoy." Archie is keen to add dishes to the menu, and has recently been putting together some recipes that he would like to present, including a nettle and mint pesto pairing with lamb.
Co-owner of The Crown Andrew Swan says: "Archie is a valued member of our team. He is passionate about creating food and we believe he will go far in his hospitality career. As a person with a keen interest in biology, he has some creative ideas around using foraged foods in cuisine and dreams of opening his own restaurant with an emphasis on foraged and wild foods. An apprenticeship is a great way for people to study in their field of interest while in paid employment. Our previous apprentices have gone on to achieve some great things, such as Daniel Ibbotson who was named Sussex Young Chef of The Year and competed in the World Young Chef Young Waiter finals in Dubai and now works in a Michelin star restaurant."
As an apprentice, Archie is employed by The Crown whilst completing a Level 2 Commis Chef Apprenticeship with East Sussex College. The apprenticeship course is for 18 months and is for those preparing, cooking and finishing a range of food items in every section of a kitchen, under the supervision of a Senior Chef.
East Sussex College offers a range of Hospitality apprenticeships which include Level 2 Commis Chef, Level 3 Chef De Partie, Level 2 Hospitality Team Member, Level 3 Hospitality Supervisor, Level 4 Hospitality Manager, Level 2 Production Chef. All these apprenticeships can be started at any time so are very flexible. If you would like to find out more email apprenticeships@escg.ac.uk or phone 030 300 39777.