"Korea finished third, which left me and the girl from China. We looked at each other and had no clue what was about to happen next. They called China and I was stood there on my own. Suddenly it hit me… I was world champion!"
I'm Rebecca West and I'm the world's best beauty therapist for 2019.
It is an amazing feeling, but still hasn't quite sunk in, even two months after winning.
My journey [to becoming world champion] started while I was at college. I was given the opportunity to compete at the regional heats of the UK Skills competition. From there I got through to the national finals and after that, I went through to compete for a place on the GB Team.
The UK finals were held at the NEC in Birmingham in November. Initially, I was up against eight other girls and round by round we were whittled down to four.
The four of us went 'back to basics' which is exactly how it sounds, we went back to basics with our beauty treatments and had to complete them perfectly. Not only were we competing against each other skill-wise, but we were also competing to see who was able to handle pressure and had the mentality to cope with intense competition.
There was only one place up for grabs, so the feeling I had when I found out that I had made the team was one of happiness and sadness. I was sad because the other girls didn't get through and we had become really good friends, but on the other hand, I was extremely happy because I was off to Russia to represent my country.
I found out that I was in the team at the end of March and began my training on 1st April. It was a 20-week programme where I stopped working [at my day job] and trained every single week. I was training with different beauty experts each week, specialising in areas such as lashes and then moving on to things like massage. Training took place in different parts of the country, five days a week, and went home at the weekends, so it was intense!
My trainer, Jenna, knows a lot of high-end therapists who were just amazing at teaching me everything I needed to know. Most of the skills I had learnt before, but these sessions were basically to perfect every skill I have. I knew that Russia would be a hard competition so I had to be perfect.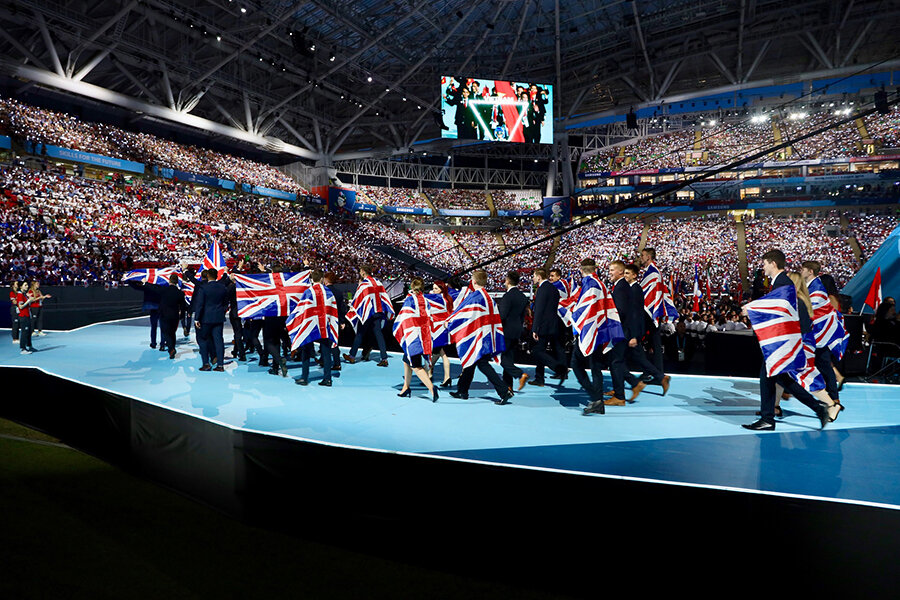 After my training, we flew to Russia on Monday 19th August and had a couple of days where we did the opening ceremony and did the familiarisation of how the competition would unfold. We had the chance to do a few excursions before the four-day competition started.
I was one of six finalists on the world stage and the competition was two full days and two half days. I was marked on everything including massage, lashes, nails, make-up and hair removal; a mixture of every beauty therapy skill you can think of.
We had three or four judges watching over each area of skill. The judges would walk around while we were doing treatments marking us against certain criteria. We would then move to another area where we would have new judges marking us on something different. There was at least one judge from each of the finalist's country, to make it fair. The criteria was very tight so there was the potential for multiple gold medalists, just like in the floristry category.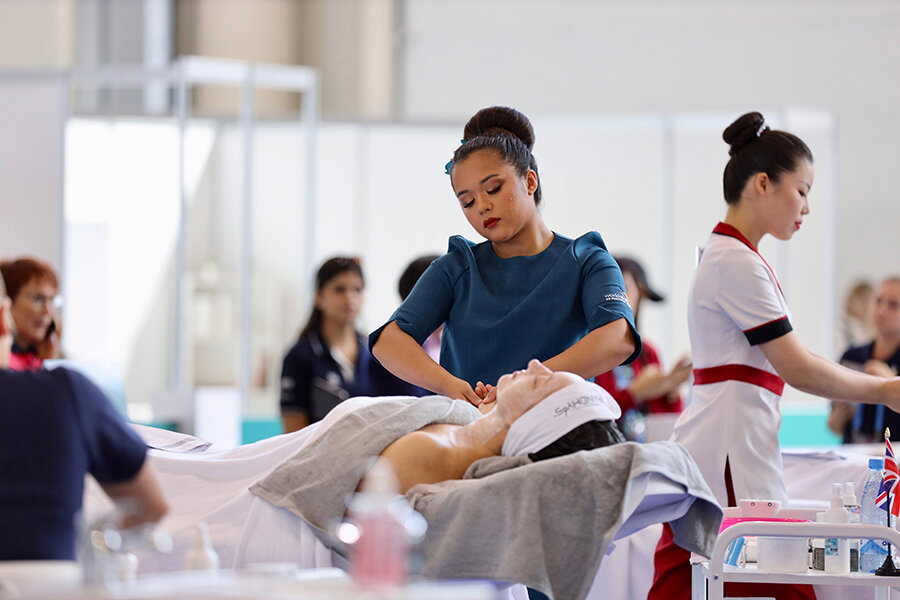 The moment I found out that I had won was just wow! I remember making my way out into the stadium with the five other finalists and stood by the podium. The stadium announcer then called the top three countries before announcing the bronze, silver and gold winners.
So, I was stood there with Korea and China. Korea finished third, which left me and the girl from China. We looked at each other and had no clue what was about to happen next. They called China and I was stood there on my own. Suddenly it hit me… I was world champion!
It was crazy. I got onto the podium and all I could think about was 'don't fall over'! I then made my way to the Winner's Circle to have pictures; and as that was happening, Team GB won bronze for hairdressing. When I saw Phoebe [McLavy] in the Winner's Circle, that's when the emotions hit me and I cried with happiness.
Since winning, I've been very busy. I've had a few TV and radio interviews and had lots of people congratulating me, which is lovely. But it's nice to get back to normality.
I'm back to work and I'll hopefully be helping out with the next generation of World Skills, training them and passing on my knowledge. Shanghai 2021 is going to be even harder.
I couldn't have done this without my training at Sussex Downs College (now East Sussex College). The skills I learned while I was there set me up for the competition without question.
I started at the Lewes campus in 2013 and began studying Hair and Theatrical make-up, then moved on to Beauty and then I decided to stay on an extra year to complete my Level 3 in Beauty Therapy. I finished in 2016 but I was able to go back to use the facilities and train for the World Skills competition.
I choose ESC because I knew it was a good college. I had other options but I chose to travel to Lewes. It took me two hours to get to college, I had to leave at 7am to get here for 9am, but I did that because I knew it was a better college and I didn't want to settle for somewhere average. I wanted to push myself and I knew that this college produces such amazing therapists and I could see from Kaiya's win in Abu Dhabi [at the last World Skills in 2017] that the students do really well here.
People often ask me where I go from here and what the future looks like. My future is definitely in the beauty industry. I'd love to go into training others and pass on all my knowledge and experience. Then perhaps specialise in skincare.