Catering Alumni, Rob Hills, returned to East Sussex College's Hastings campus recently to host a pop-up evening event at Coast Restaurant.
Last month, Coast Restaurant opened its doors for an exclusive pop-up dining experience, led by ESC Hastings alumni Rob Hill. Rob returned to College to speak to students about his journey through the industry and also run a full dining service in collaboration with current ESC students.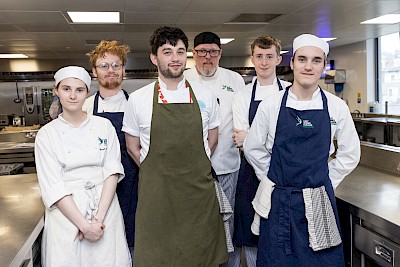 Rob expertly guided aspiring young chefs through each step in creating a five course Pan Asian menu. The service proved to be an overwhelming success and was valuable to students who got a taste of what it's like to work to a high level under pressure in the industry.
Following the successful event, Rob caught up with the College to share his thoughts on returning to ESC.
"Coming back to college was weird and I was slightly anxious after returning after 10 years," said Rob. "But I quickly found my way around the College kitchen again. It was strange to be working on the other side with my old tutors and not being a student. I loved the entire experience, and I'd do it again in a heartbeat."
"I felt the night went really smoothly, it was an honour to be invited back to the college which taught me what I know today. And to pass on some of my experience and knowledge to the future chefs of our generation. As with working with two new chefs in the College, Dave and Matt, they made me feel welcome and put me at ease working with the students. They're both great chefs and an asset to the department."
Rob added, "I'd have to say the highlight was running the service. It was the first time in my career running a kitchen brigade of that size, so I was nervous prior to service. I soon found my feet and everything just fell into place. It gave me such a buzz during service which I always love when working in kitchens. Another highlight would be working with the students, and giving back to the College which taught me so much. And I even picked a few tips from the students!"
If you'd like to follow in Rob's footsteps into the Hospitality and Catering industry, please click here to find all relevant courses on offer at East Sussex College.