East Sussex Fire and Rescue Service (ESFRS) visited East Sussex College Eastbourne and recreated a road traffic accident recovery scene for Motor Vehicle Mechanical Repair students recently.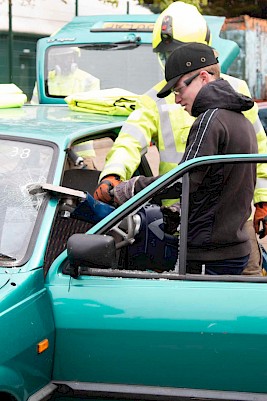 The ESFRS team demonstrated the structural integrity of cars to East Sussex College Eastbourne Motor Vehicle students, by recreating a rescue scene using a scrap car at the College. The fire crew recreated a road traffic collision scene with students being 'rescued' from the scrap car.
Students were given an extensive demonstration of the tools used by firefighters to rescue casualties from crashed vehicles. They then experienced being cut out of a 'crashed' car, with all the sounds of being involved in the aftermath of a road traffic collision.
Students even had the opportunity to safely try out the equipment for themselves in the main demonstration, and they also had time to remove car doors and car roofs with cutters.
Leading the demonstration was Kevin Hart, who represents ESFRS and the UK in extrication competitions worldwide. The ESFRS team explained to students the challenges created by modern vehicles, with the event serving as a road safety awareness class as well as a mechanical one.

"If we look at the 'crashed' car, there's potential for a lot of movement," Kevin told the College's Motor Vehicle students. "That movement can then pass through to the person inside - if you have a head, neck, or spinal injury, any sort of movement to the car risks making an injury worse. Therefore, we have to stabilise the vehicle by putting blocks underneath and wedges surrounding the wheels.
"When we arrive, we've made the scene safe, we've stabilised the car, then we'll need to be speaking to the injured person in the car. We'll assess the injuries, then get the guys to go around the vehicle and see how best to get the individual safely out."
Kevin added, "Cars are designed to absorb the impact of a collision and protect the people inside. However, it can enclose and trap the victim, so we have tools including spreaders and cutters designed to get them out. There are countless things that we must assess and consider."
Mark Streeter, Lecturer in Motor Vehicle at East Sussex College, said, "The ESFRS visit is a great opportunity for our students to learn first-hand about modern cars and also opens their eyes to some important road safety issues.
"The simulation of a car accident is a valuable opportunity for our students, particularly as the ESFRS team allowed them to use their equipment. The demonstration is always helpful and interesting for the students."
To find out more about studying Motor Vehicle at East Sussex College, please visit the College's website by clicking here.