A brand new halls of residence is being developed in Hastings to offer university and international students high-quality accommodation while they study in the town.
Award-winning design and development company, Cochrane Design, is in the process of converting the former University of Brighton building on Havelock Road, into what is the College's first dedicated student halls of residence.
Cochrane Design will bring their high-end construction and finishes to the building, creating a timeless, cutting edge design coupled with it's hotel brand Vive, occupying the same building, giving an exciting atmosphere while providing added security.
The accommodation will offer 49 self-contained studios, allowing students to live comfortably while they study at one of the College's main campuses, Station Plaza or Ore Valley.
The Havelock Road site, will offer a large common room, use of all hotel facilities including, hotel lounge, events space, and comfortably sits within 100 metres at the Station Plaza campus, where the college gym is located.
David Fowler, Head of Higher Education at East Sussex College, said, "This is a really exciting development for the College, the town, and potential students looking to study in Hastings. We're now able to offer high-end student accommodation, something that was missing from our university experience for a number of years."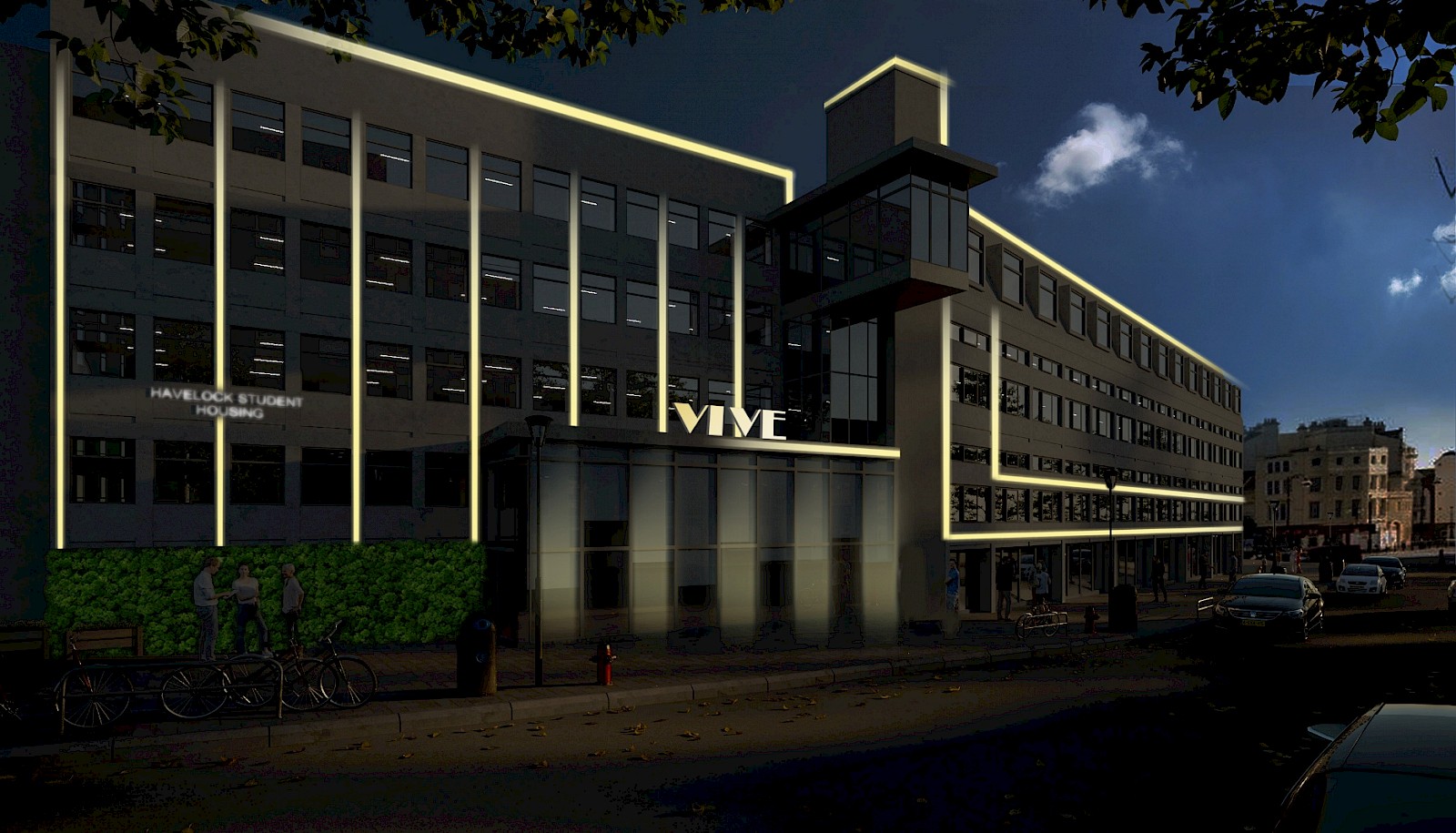 Sean Cochrane, CEO of Cochrane Design, said, "I have been working in Hastings for several years and have been totally taken in by the town's history, charm, and architecture. I am thrilled to be spearheading this project, along with East Sussex College, to develop the first student halls in Hastings. We are not only creating student accommodation with the Cochrane Design twist; we have also looked into every aspect of student life, including comfort, study, play, and wellbeing.
This is a heart-warming project that is a pleasure to be involved in. I believe it is a real positive for us, the College, and the town after this extremely difficult global pandemic.
The building work is well on the way and we hope to have a show room open before the end of May. Cochrane Designs is working with local a local team of architects and contractors who have also pledged to support construction students studying at the College to offer them on-site work experience."
Sean added, "I would like the development of Havelock Road accommodation to benefit as many students as possible, including those studying construction courses at the college, to create a positive legacy." We have have purposely kept the price for these exception student studios low starting at £135 to stand head and shoulders above anything else for value for money."
About Cochrane Design
Established in 2004 by Sean Cochrane, Cochrane Design provides for their clients a design service of the highest standard.
Born from humble beginnings and a freshly discovered talent for interior design, Sean has evolved the company from a solitary flat, which he developed and increased its worth by 25 percent, to a portfolio of highly luxurious, imposing properties ranging from a 5* Ibizan hotel to Listed townhouses across London.
The company has been awarded a plethora of prestigious Internationally recognised awards.
About East Sussex College
East Sussex College is one of the largest FE colleges in the South East and offers a range of Higher Education courses, as well as English study programmes for international students.
The College runs degree courses validated by University of Brighton and Pearson, offering the local community an opportunity to study for a degree locally.
Degree courses run at two of the College's three campuses in Hastings - Station Plaza and Ore Valley - as well as at the Groups other main campuses in Eastbourne and Lewes.
The College has been running degree courses for over 25 years and continues to grow.