WorldSkills gold medallist and East Sussex College alumni Kaiya Swain spoke to students studying Business & Service Industries about her journey from college student and the WorldSkills stage to where she is today.
The College welcomed Beauty Therapist Kaiya to the Kings Restaurant at ESC Eastbourne on Tuesday (23 November). The award-winning alumni competed in the UKSkills competition during her time at college, making it to the WorldSkills Final in Abu Dhabi in 2017 and crowned the world's best young Beauty Therapist. Kaiya shared her inspirational story with the current cohort of students studying the Business Service Industries.
Kaiya reflected on her time in Abu Dhabi, saying, "I was the sole representative for Beauty Therapy from the UK. I flew out with the UK squad, so I was joined by other industries such as a landscape gardener and pâtissier - everything you can think of really. We became a little family.
"The four days of competition were tough. I was up at 4.30am and sometimes didn't finish competing until 10 at night. I then had to wait two days for the result. The closing ceremony was held in a huge stadium, with tens of thousands of people, including competitors, judges, spectators, training managers, and friends and family."
Kaiya's hard work and dedication to training paid off as she was announced gold medalist in Beauty Therapy, making her the world's best young beauty therapist. But she admits she struggled and had self doubts during her studies and leading up to her training,
"I lacked self confidence," she confessed. "I was too critical of myself. If I could go back I would say to my 16-year-old self, 'believe in yourself'. When I first went to Birmingham to compete, it was just me and my model - I was terrified! I entered the competition to prove to myself that I could do it.
"I had a lot of opportunities come from WorldSkills that I am so grateful for. There is always a chance to better yourself. I'd recommend the competition to any student - you've got nothing to lose and everything to gain. I'm really lucky to be able to talk to students regularly, whether you're good enough to compete already or just starting out. If I had somebody to come and talk to me like this, I would have picked their brain."
Following the competition, Kaiya was paid to spend three weeks in Chicago to film learning resource videos with the Vocational Training Charitable Trust (VTCT), which was "an incredible experience".
Kaiya advised students to utilise the support of their tutors. "They are there to help. There is no question that is too silly or too small. They've got the skills, so lean on them, until you get to where you want to be."
She now runs her own successful business, Kaiya Rose Beauty. During her time at college and in competitions, Kaiya specialised in massage and facials, but she now cites eyelash extensions as her favourite treatment, "as they give clients the real wow factor".
"Lifelong learning is important, as the industry is always evolving," Kaiya shared with the students. "Keep up to date with new trends and strengthen skills in areas where you are weaker."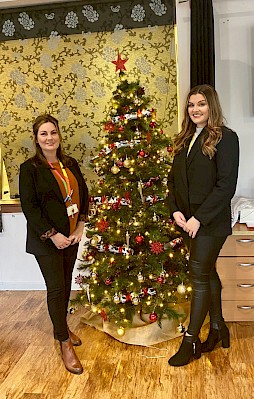 When asked about starting up her own business, Kaiya advised students to get into a salon first. "It will give you so much confidence. I worked in a salon, a medical clinic, and a spa. Get the experience and build up a client list before starting on your own."
Asked about her next goal, having achieved so much so young, Kaiya responds, "Before, I always dreamed of having my own salon. But I work from home, and I really enjoy it; my clients love that too and prefer it to going into a salon. I'm currently renovating [Kaiya moved home two weeks ago] and rebuilding the business [following the COVID pandemic]."
The talk was set up by Emma Hartup, Head of Curriculum for Business and Service industries at ESC. Emma also joined the innovation networking team with UK Skills in 2020, with the goal of East Sussex College becoming a Centre of Excellence in UK Skills.
Emma adds, "This competition gives students a life-changing experience; they learn to persevere and build up resilience by stepping out of their comfort zones. I have always had a competitive nature and want to inspire students to go for glory in skills competitions."
East Sussex College is introducing skills challenges in Hair & Beauty and Catering lessons, to find students to develop an 'Eastbourne squad' for 2022, to represent South East Colleges in the first stages of the UK Skills competition.
Kaiya's alumni talk was attended by Level 1, 2 & 3 Hairdressing, Level 2 Hair & Media Make-up, Level 2 Beauty, Level 3 Catering students and Catering apprentices.