Hospitality & Catering students from East Sussex College Eastbourne take charge of their health and wellbeing with help from Boss Gym this Stress Awareness Month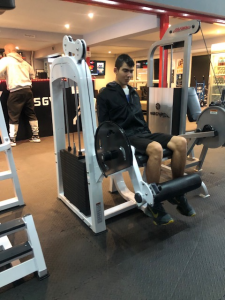 Jenny Knowles, Hospitality & Catering tutor from the College, set up a wellbeing programme to support students alongside their College studies. This included a series of talks and activities, to build students' self-esteem and confidence. As part of the wellbeing project, the College approached Boss Gym in Eastbourne, who offered the students free use of the gym facilities, from March until the end of June.
Jenny says, "Like many of us, my Level 1 Catering group found lockdown tough, and faced a number of mental health struggles. We needed to address this and aid their learning. Our programme is helping to boost their wellbeing and confidence. We approached Boss Gym and they were keen to support us, as they know the benefits of exercise on mental health. It has been wonderful to offer students this opportunity and benefit from this."
We all know the benefit of physical activity on our stress levels. Sometimes we just need that push to get started. Exercise releases endorphins (known as the feel-good chemical) as they trigger a positive response in the brain, similar to the effect of morphine in relieving pain.
The Stress Management Society identified that it takes 30 days to turn actions into habits, so they advise people to set out achievable goals in this way. For the ESC Catering students, the ongoing free use of Boss Gym enables them to form new fitness habits and recognise the benefits of exercise to their mental health over time.