For the TENTH successive year, East Sussex College Lewes students celebrate success in the prestigious Royal Opera House Design Challenge.
Creative students at East Sussex College have long been successful at the annual Royal Opera House (ROH) Design Challenge over the years, evidenced by a tenth consecutive year of ESC students being recipients of the top awards on offer.
This year's challenge required students to submit set designs and marketing strategies for the opera Peter Grimes.
ESC student William Chan, aged 19 from Eastbourne, won the Set Design Award and was also chosen for the Director's Choice Award. Itamar Burstein Lachman, aged 17 from Lewes, and George Bayly, aged 18 from Hassocks, were recognised as Highly Commended for poster and set design respectively.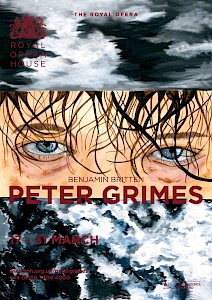 This year there was also a special mention to Maia Calton, aged 19 from Crowborough, who was Commended by the judges and has been invited to have their work displayed at the exhibit this summer.
James DiBiase, A-Level Art tutor at East Sussex College, says, "The Royal Opera House Design Challenge is now one of the highlights of the year. It is becoming increasingly more difficult with the high calibre of entries nationwide to believe our students will be among the prizes.
"So for us to have done so well again this year, with Will, George, Itamar and Maia having their work in an exhibition at the ROH in June, is testament to all their incredible hard work, relentless determination to succeed and outstanding creativity."
James adds, "All our students produced some truly stunning responses to this year's opera - Peter Grimes - but a special mention to Will Chan, who secured an unprecedented two prizes - Set Design and Director's Choice - for his ingenious set which was quite simply remarkable!"
Amy McGann, Head of National Programmes at Royal Opera House said, "The level of creativity from the young people across the country in this year's Design Challenge has been high. The judges - drawn from senior positions across our specialisms here at ROH – were impressed by the standards of the presentations on process and the professionalism of the final response.
"We were delighted to hear evidence of the impact of the journey from so many of the participants. Congratulations to all who took part, and I look forward to meeting the winners."
The Winning and Highly Commended students will be invited to the Royal Opera House on 8 June 2022 to collect their prizes and spend some time with professionals to gain an insight into life working at the Royal Opera House with dedicated time at one of their production departments.
The exhibition of the students' work will be on display to the public in the Linbury Foyer at the Royal Opera House, from 9 June 2022 to 22 June 2022.