Seven students studying UAL Foundation Diploma in Art & Design at East Sussex College's Eastbourne campus were commissioned to do the festive window displays for the Urban Ground Cafes in Eastbourne.
Art students, Leonie Hurtado, Jude Fievez, Holly Vaesen, Brooke Farmer, Abi Logie, Milo McGowan and Tabi Bennett were commissioned by Urban Ground Cafe owners Michelle and Andy Spirou to do their festive window displays.
The students, who are from within the graphic design and illustration specialist pathway of the course, worked for two days to draw their own festive designs onto the windows while the coffee shop was open for business.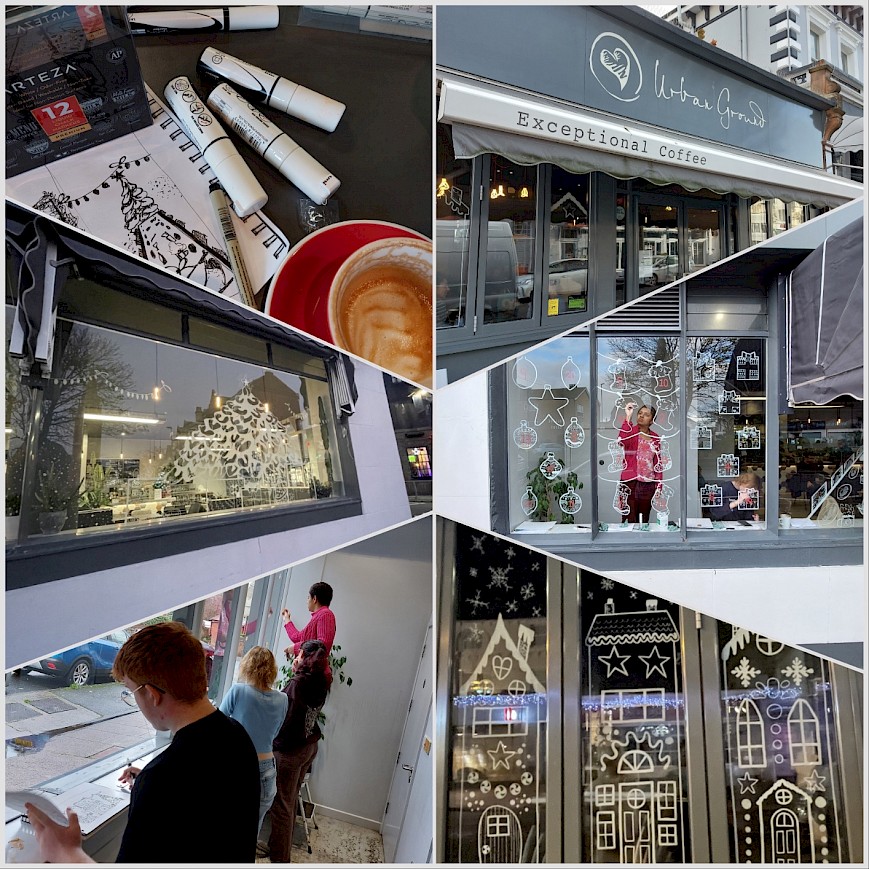 Michael Shepherd, Art & Design Course Quality Lead at East Sussex College, said, "Owners, staff and the clients of the cafe loved the experience, and students learnt great skills about working with a live brief, client and the general public...as well as getting very Christmassy!"
Michelle, the owner of Urban Ground, gave a positive endorsement of the students and said, "I would just like to say a massive thank you to you and your lovely students, they did an amazing job, the windows look beautiful. The students are a credit to you and of course the College. They were so lovely, it was a pleasure to have them. We look forward to working with you all again and will be posting lots of photos on our Instagram."
If you're interested in studying Art & Design at East Sussex College, please visit the website here.