Design T-Level students from East Sussex College, Eastbourne, present their vision for an eco training hub to OHM Energy in an exciting new competition.
What does the college of the future look like? One which forms strong links with local and regional partners to better meet the needs of people in Sussex and beyond (Ofsted 2022), and has green training embedded into the curriculum to equip students with the knowledge and skills to work with new green technologies. Thanks to East Sussex College's pledge to be carbon neutral by 2030, and partnering with OHM Energy to develop an exciting new decarbonisation training programme, the College is already making headway towards becoming a College for the future.
As ESC takes steps in becoming a leading green energy training provider, a competition was held for T-Level students to design the future training hub in a vacant commercial unit at nearby Hampden Park, with the winner announced on 1 April.
For the competition, Design, Surveying & Planning T-Level students worked on a real client brief. Once completed, the venue will train future cohorts in green technologies, which makes up part of the College's work in decarbonisation. The decarbonisation project sees the College collaborating with OHM energy, a Sussex company specialising in renewable energy. Future training at the new hub will cover multiple renewable energy initiatives, including heat pumps, solar energy, electric vehicle charging points and retrofitting older properties. This exciting new initiative will ensure the future workforce is equipped with the knowledge and skills in cutting-edge green technologies.
The students' CAD designs were viewed by Michelle Donelan, Minister of State for Higher Education & Further Education, and Caroline Ansell, MP for Eastbourne and Willingdon, on a campus visit at the end of March. Students then presented their designs to a judging panel in the vacant commercial unit at Hampden Park industrial estate on 1 April.
The work of 10 students was presented in the competition, including Louisa Scarabelli. She says, "I originally studied Health & Social Care, but after working a summer job in Construction in Brighton, I changed courses. I did some research online and came across the T-Level. I'm one of only two girls on the course but I love it. Construction is exciting! After my course, I hope to go into the industry."
Nick Backstrom, lead consultant on the project, says; "It's taken three months, from delivering the brief to T-Level students to where we are today. Students have studied solar, retrofitting, wind energy and heat pump technology to fulfil the green initiative of the brief."
The judging panel consisted of Rebecca Conroy, ESC Principal & CEO; Robert Cottrill, Chief Executive at Lewes District Council and Eastbourne Borough Council; and Jason Lindfield, Managing Director of OHM Energy
Robert Cottrill addressed the first year T-level students, saying, "The quality of work is outstanding. Every single one of you grasped the strategic concept of the brief you were given; how you've translated that and presented it back to the panel blew my mind. The work is up there with the work of consultants. It can be a struggle to recruit surveyors with an eye for detail; the skills you are learning on this course will put you in high demand."
Three students were highly commended for their designs: Chris Cribbens, who judges said "showed an understanding and had a passion for what he wanted to achieve," Niamh Redington, who had a "clear vision with a sharp design eye and attention to detail that really impressed judges," and Oli Ward, who portrayed "clean and simple designs with well considered layout and flow of the space."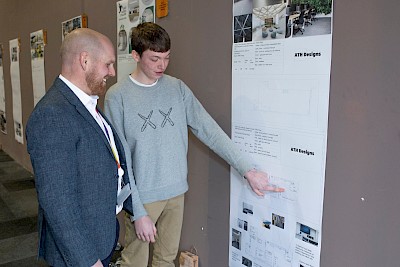 Winner Aiden Hill impressed judges with how he answered all the elements of the brief. Furthermore, he presented issues and details that even the judging panel hadn't considered. "It's outstanding work," the judges said. Aiden's design concept will now be used to develop the space into the ESC training hub.
Aiden comments, "I can't believe my design won! It feels incredible. CAD work is my favourite part of the course. For me, it's not so much the structural build; I love the design element."
Jason talks about the collaboration with the College, saying, "OHM brings 20 years' commercial experience to the project, delivering the training so students can enter the workplace with the knowledge required. We are mindful that there are not enough educated engineers in renewable energy. We bring in our experience to change that. For me, this is the completion - full circle. Our on-site engineers, reaching the end of their careers, now move on to training new apprentices in renewable energy. This project demonstrates that you can combine environmental and commercial ventures successfully. This emphasises all we do."
"We've had fantastic support from companies locally for our T-Level subjects, and we've built brilliant partnerships with longevity," says Rebecca Conroy. "It's been a real energy boost setting up this project. It will add a lot to what we do and how we do it. The new retail space will attract a lot of local interest."
The area will transform training for the future cohort. Hayley Robertson, ESC Head of Partnerships and Project Lead for the Decarbonisation project, adds, "This ensures the green strand is weaved through the curriculum, not just one project. This is our legacy."
East Sussex College was one of the 'early adopter' Colleges delivering T-Level pathways from 2020 onwards. These popular routes are ideal for students looking to go to University, Higher Apprenticeships or directly into employment.
The training hub is set to open on 12 August.
For more information on East Sussex College's decarbonisation work, please visit: www.escg.ac.uk/blog/college-carbon-zero-project-gets-underway.