"I have always been interested in catering and my dream is to own and run a vegetarian restaurant."
I'm Jupiter Humphrey Bishop, and I study Level 3 Professional Cookery.
I've studied at the college for three years, starting at Level 1 and working my way up to Level 3. I have always been interested in catering and my dream is to own and run a vegetarian restaurant. I have been a vegetarian my whole life and my parents are vegetarian so it is something I'm passionate about.
The course has helped me in working towards that goal. It has given me the confidence to go into a professional kitchen and start cooking. Before that, I was very nervous and didn't really know where to start.
The facilities are really good. We have three kitchens and a restaurant so we gain experience of both catering and hospitality. As you progress, you move up to different kitchens and by the time you get to Level 3 you get to run a themed evening in the restaurant. You have complete control over the design and layout of the restaurant, design of the menu, ordering the ingredients and prep all of the food, including organising and allocating roles to your kitchen team. Learning these skills and gaining this experience gets you ready for the real world.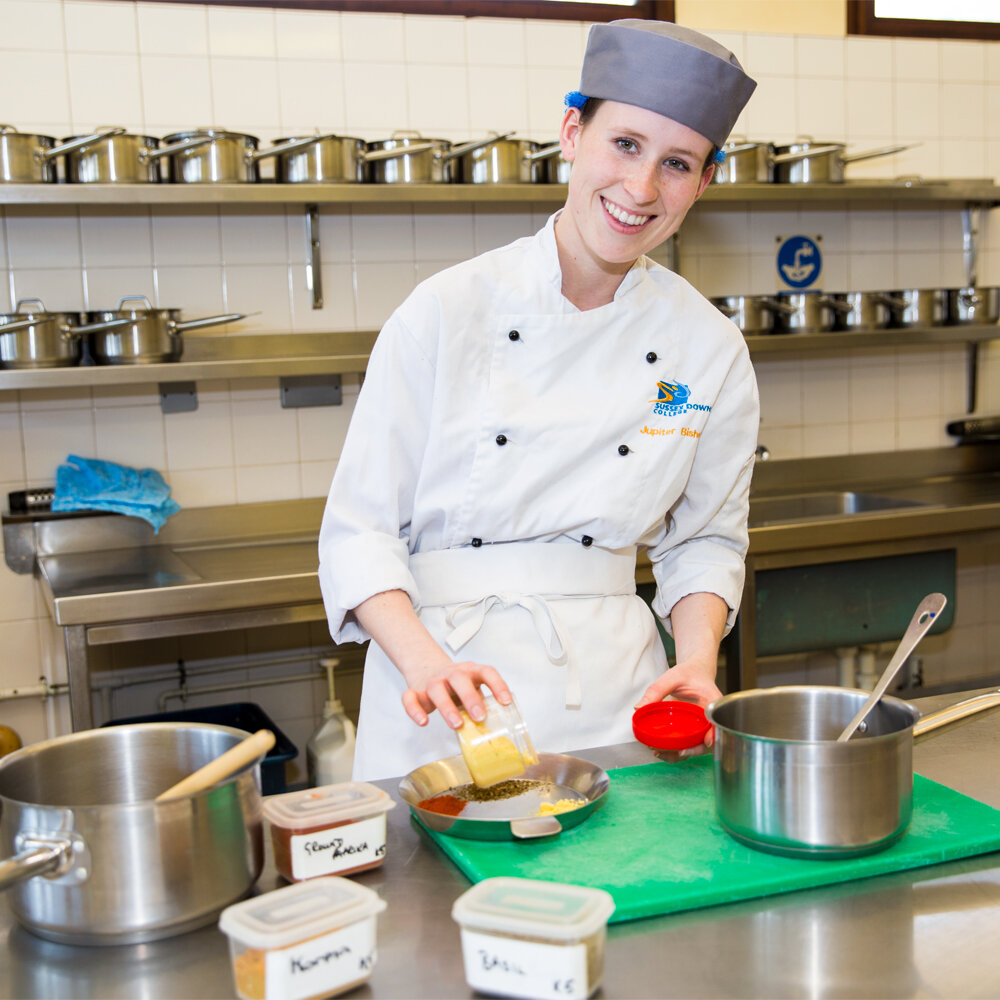 The tutors are really helpful, particularly when it comes to exam season. When you're thinking, gosh, I've got all of this coursework and revision to do, the tutors are there to help and support you. They're by your side and if you have any questions you can always go and ask and they will reassure you.
One of the other things I love about studying here is that we have the opportunity to go on work placements. In my first year, I had the chance to work at the View Hotel and loved it so much that I managed to secure a part-time job there. I've worked there for the past two years. I also had the chance to work at the Grand Hotel and the Hydro Hotel in year two. I was able to experience professional kitchens and see what the industry is really like.
I've really enjoyed college and the three years I've been here. I thought that three years was a long time, but when you're doing something that you love and you're passionate about, it just flies by. It's just incredible and I have thoroughly enjoyed everything over the last three years.
I'm working towards my dream of running my own restaurant and have recently attended a 'how to set up your own business' course. It was supportive and helpful and gave me the idea of starting with a pop-up restaurant for occasional evenings and events. I was thinking about how I would go from college to running my own business and this seems like the perfect step.
It is a vegan, fine-dining experience and has already shown me how I can turn my dream into a reality. So watch this space.