East Sussex College welcomed the Minister of State for Higher Education & Further Education following the College's rise to Ofsted Good Provider status.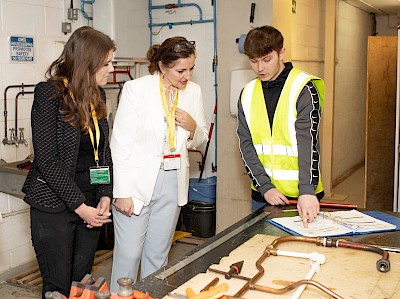 Minister Michelle Donelan visited East Sussex College recently to meet T-Level students and find out more about their experiences. It was also an opportunity to hear about the decarbonisation training programme set up by the College to train future cohorts in green technologies as part of the Sussex wide Strategic Development Fund. The Minister was joined by Caroline Ansell, MP for Eastbourne and Willingdon, Rebecca Conroy, Principal & CEO, and Mark Wardle, Deputy Principal, of East Sussex College.
Minister Donelan said, "Real levelling up is about making sure everyone can get the skills needed for good jobs and T-Levels are an ever-growing part of our skills revolution.
"East Sussex College Group were one of the original 2020 T-Level providers and it was fantastic to see first-hand the blueprint for success that the College has impressively developed."
Minister Donelan's visit followed the announcement of the College's Good Provider rating by Ofsted. Ofsted reported that the College had "developed and changed the curriculum offer appropriately to meet local needs successfully."
Lucie Cater, (16), chose to study the Education & Childcare T-Level course. She said, "I wanted to get into the workplace and apply the knowledge I'm learning in the classroom. Presently, we spend one day a week on placement with a two-week placement block, which I love. In Year 2 this will extend to two days a week in the workplace with a three-week placement block, so we get a lot more experience out in the field."
The T-Level pathway is ideal for students looking to go to University, Higher Apprenticeships or directly into employment. Education & Childcare tutor Rachel Byrne said, "Of our Year 2 students, 70 per cent have got into university and 30 per cent are going straight into the industry."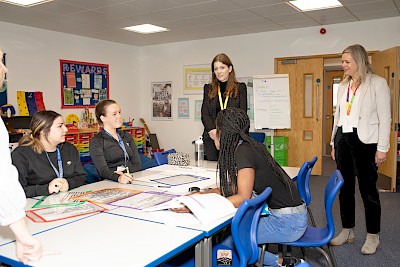 At East Sussex College, Primary school teaching has been the most popular pathway on the Education & Childcare T-Level. Students have also been interested in pursuing children's law and social work.
"We've had huge praise for our students who are currently working in a local primary school," added Rachel. "Their staff thought our T-Level students were from a university course, because of the high level they are working at. Their transition to university is a smooth one as a result."
Ofsted reported that, "students respect and support each other," which is something Minister Donelan witnessed on her visit. Ofsted said, "Students encourage each other during discussions and share ideas. This helps them to learn from each other and build their confidence and resilience."
Minister Donelan concluded her visit in the Construction area where she met Design, Surveying & Planning T-Level students, tutor Matt Roberts, and viewed students' proposals for a new training hub. This new venture evidenced the strong links forged with local and regional partners, which Ofsted reported would help the College to "understand and meet the needs of people in Sussex and beyond."
"When speaking with students from the College's Eastbourne Campus, their passion for their T-Level studies was abundantly clear," Minister Donelan said. "T-Levels have provided them with an invaluable stepping stone to go forward and explore a range of opportunities in life, whether this be in skilled employment or indeed in higher and further education.
"That is exactly why it is our mission is to make T-Levels as famous as A-Levels".